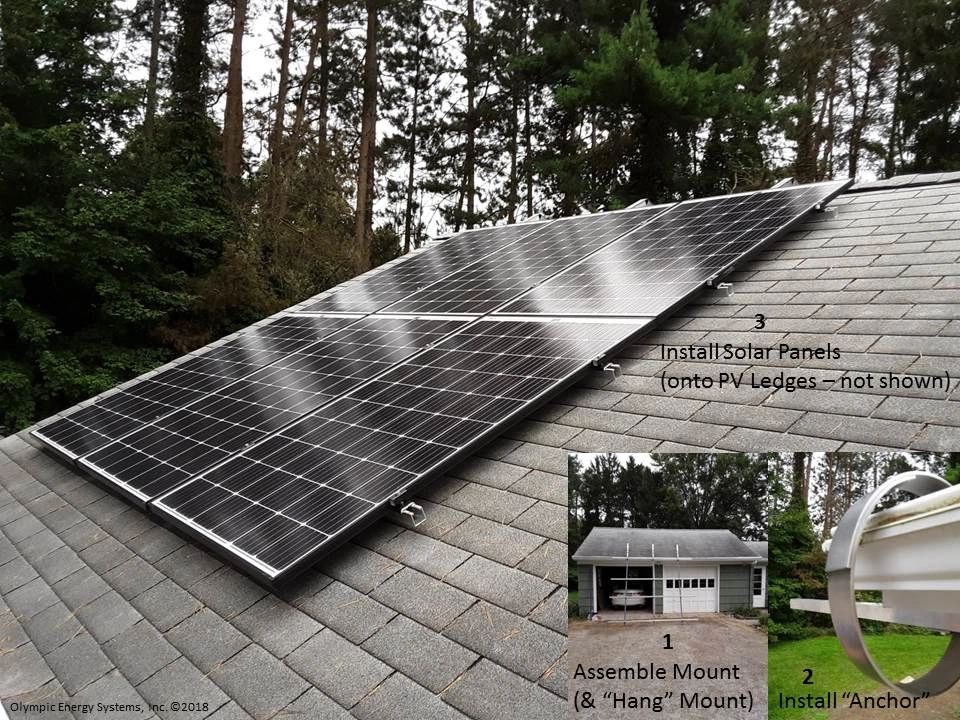 FIRST TCS R1X-mounted Solar Array INSTALLED 2018 - Low Impact, Low Labor Cost, Made in Ohio




Headworks of a completed 10 KW hydro electric system on the Olympic Peninsula.
Small PV Array connected to a battery bank and inverter system in Quilcene, Washington.
Large Solar Thermal System installed for hot water (and space) heating in Port Townsend, WA.
Battery-backup to a grid-tied Solar Electric System in Port Angeles, WA.

Olympic Energy Systems has functioning renewable energy systems in such towns and cities as:

Port Townsend Sequim Blyn Port Angeles Forks Quilcene Chimacum Brinnon
Marblemount Kirkland Port Orchard Bremerton Port Ludlow and many others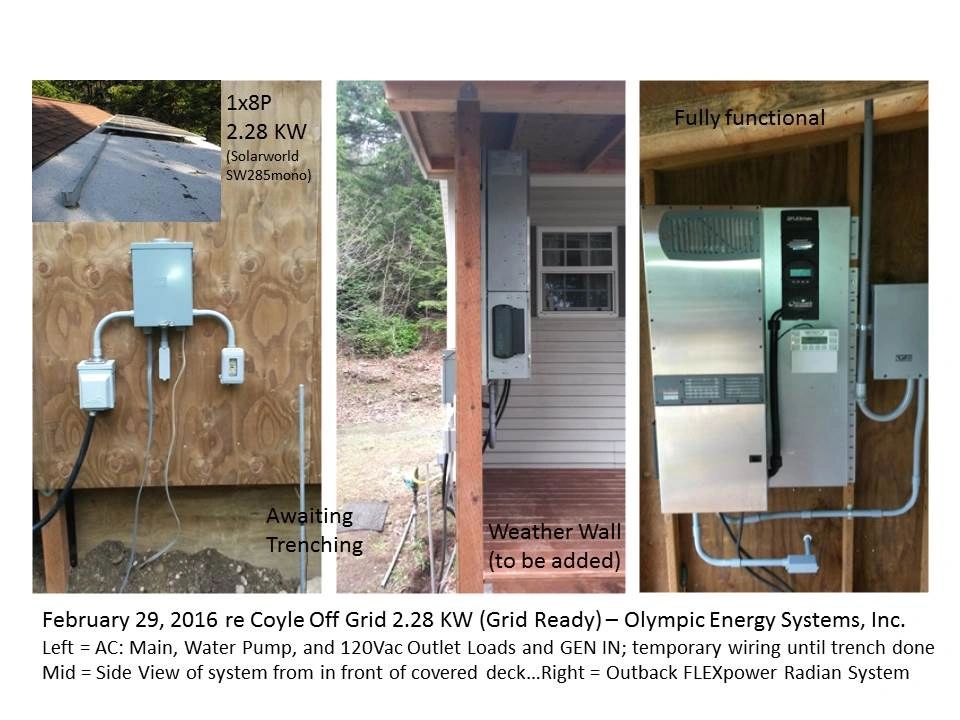 3 years and going strong [The G1 passing its 9/12/15 inspection]
The TCS G1M goes into production in Ohio in 2016, with a metal stanchion.

Small and Simple Solar has arrived!
Our owner-assisted grid-tie projects are saving big money and creating real positive returns
on investment in solar...the latest ground mount system at $7 per watt (an initial $3,500 investment -
NOT $35,000) will finish at $3.65 per watt installed cost for a 3.84KW ground mount grid tied solar
electric system. Megawatt scale solar farms cost more, proving that bigger is not always better.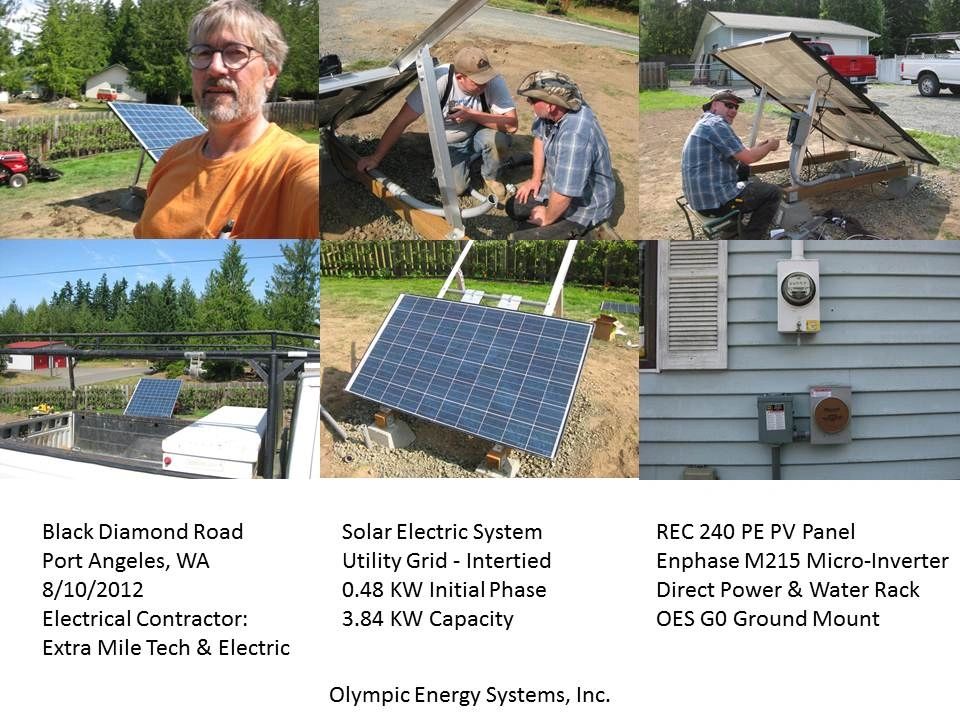 The company president found himself in Findlay, Ohio for the commissioning of a 2.7 KW solar electric system (grid-tied) utilizing the new Olympic Energy Systems Tensioned Cable System in June 2012

OES G1 Mount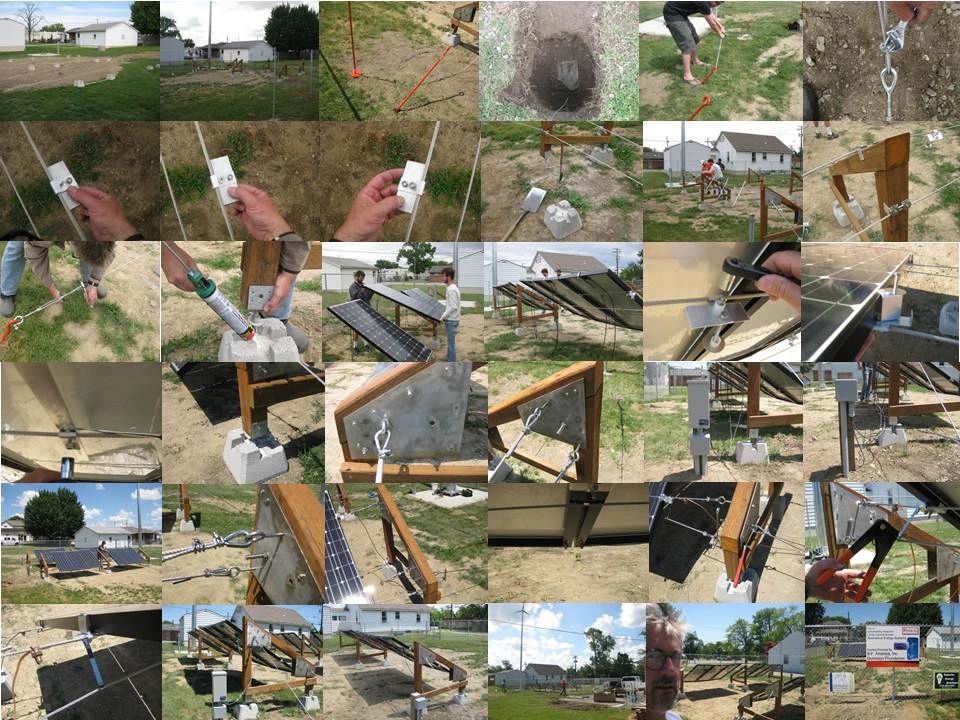 G1Installation
Crew required: Two people for two days or less, depending on experience level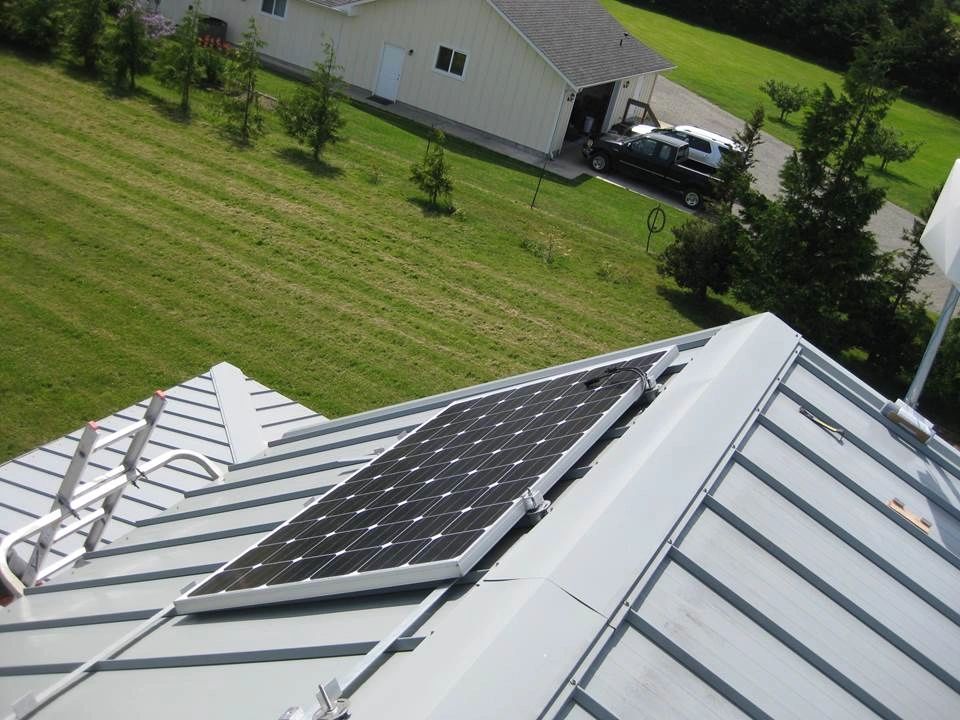 OES developed OVERLAY used on a metal roof to "hang" two rows of PV panels before clamping - top row shown [2013]


OES G0 Mount
Off-Grid Solar Electric System - 1/2 cost of a tie to the utility grid [Port Angeles, Washington USA]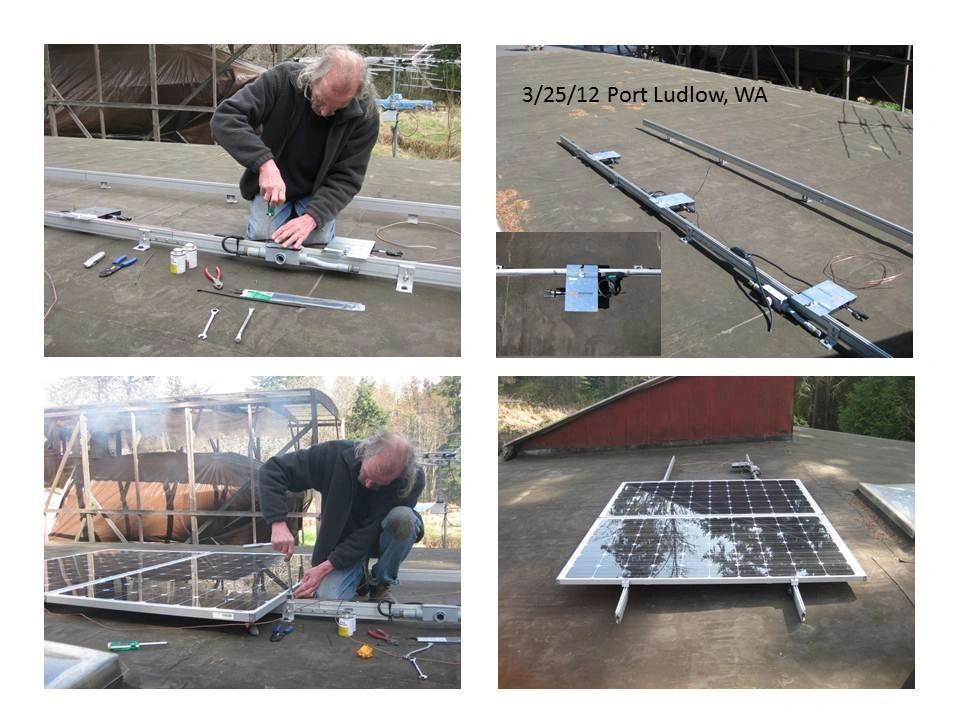 Enphase inverter / Solarworld PV
OES breaks the $4/watt barrier! The 720 Watt grid-tied system cost the owner/installer less than $3,000

Dom Smith of Greenspace (a general contractor) confers with the owner, as an 1800 watt pole mount solar electric system installation progresses toward a late August 2011 operational capability.

OUR NEW DEVELOPMENT - Tensioned Cable Solar Panel Mounting System

SOLAR SHADOW Analysis Example 052815 at 48 N LAT and 123 W LONG

click


1983 (100th Anniversary)
Example of a Tensioned Cable Roadway Mounting System, i.e., the Brooklyn Bridge



Patent Pending Tensioned Cable Solar Panel Mounting System under commercial development
CALL FOR DETAILS on this non-roof-penetrating mounting system. [Prototypes SHOWN]
The TCS Logo is new, too...
Tensioned Cable System (TCS)


The TCS is now in production. Many solar panel mounting systems - complete kits using our innovative patent pending tensioned cable design - are outlined in our Mounting Kits Guide and Ground Mount G1 Kits Selection Chart, accommodating the well-established Kaneka, Sanyo, and Solar World PV Panel brands, as well as 17 other panel manufacturers. Full customer support provided with each ORDER.

We expect to achieve breaking the $4 per installed watt price in systems, on the roof or on the ground! In that case, system owners can make a positive real return in any state in the nation. In Washington State, financial incentives have already made it one of the best places to invest in solar.

Company projects can range from small to large, covering months or years, but all involve meeting the basic goals of optimum performance, positive economic return, and true sustainability. Peruse our latest Olympic RE News (Fall 2008) newsletter...

A recent addition to the Solar PV family - this 7.2 KW Grid-Tied system is a mile from a 62 Watt battery charging system...our largest and smallest roof-top systems are a short walk from each other...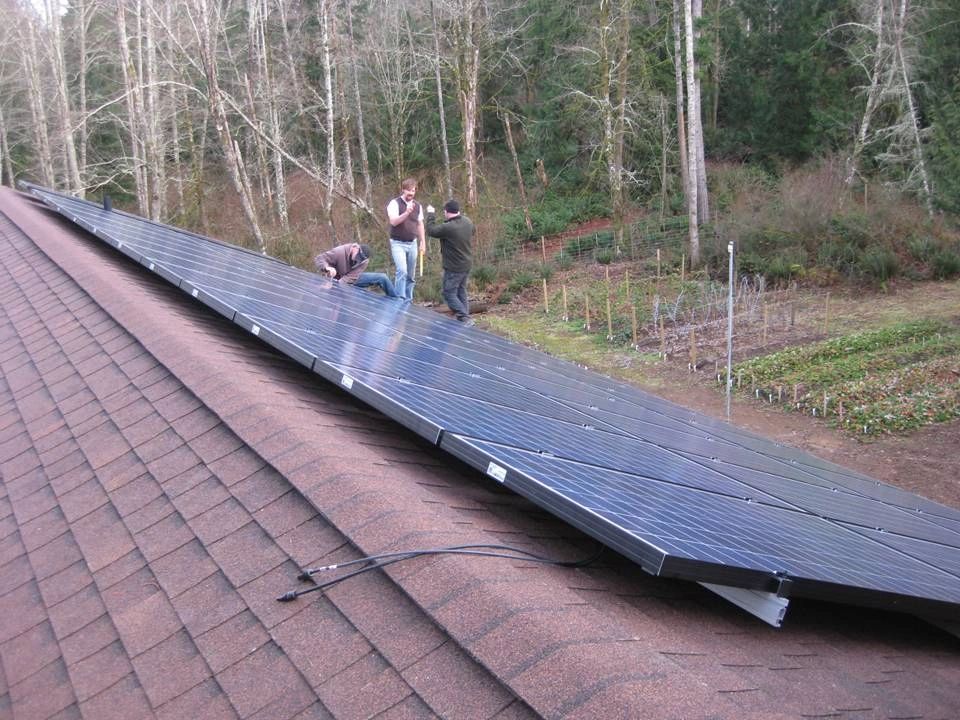 PV Electric Systems are continuously under development in the entire Olympic Peninsula region. Here are 15 highlighted Solar Electric Projects and 10 selected Solar Thermal Systems.

Solar Hot Water systems have been developed in Port Townsend, Sequim, Port Angeles, Bremerton, Port Orchard, and Bainbridge Island, using both flat plate and evacuated tube technology, in different configurations (mainly domestic hot water preheat).



A Solar Hot Water Preheat and Auxiliary Space Heating System wraps up in Port Townsend
(A conventional electric water heater will be installed next, providing the backup to the solar.)

In Port Angeles, recently...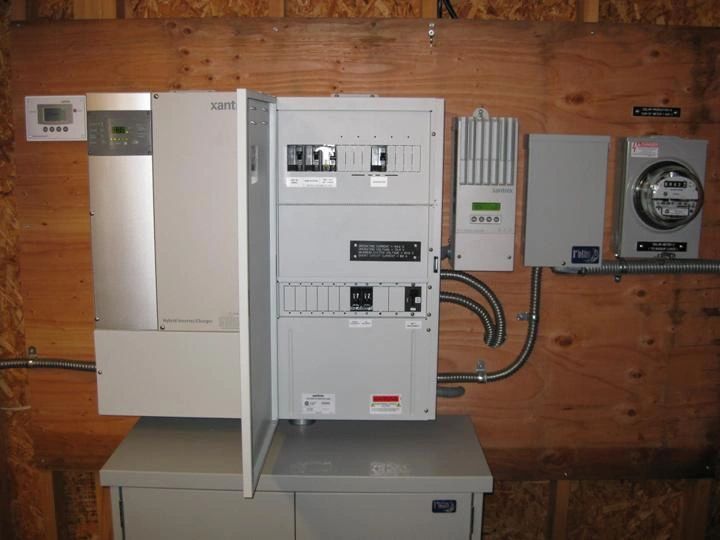 3200 Watt Grid-Tied PV w/ Backup
Extra Mile Tech & Electrical is on the road to becoming a bona fide solar contractor, soon to be conducting the entire installation (including PV), while working with Olympic Energy Systems in the upfront design and specification phase.



Collector installation by Greenspace and the expert plumbing (heating loop) by Shay's Plumbing

In Bremerton (NE Riddell Road)...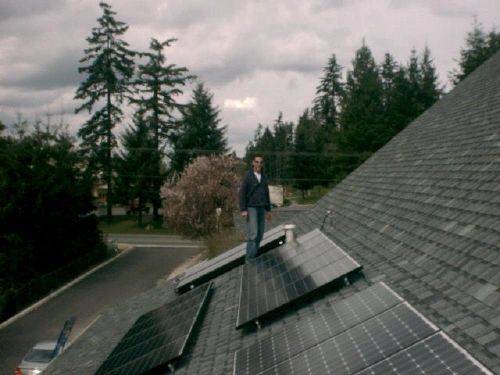 The 4000 Watt Solar PV and Dual Flat Plate Collector Hot Water System are both on line on this Built Green building.
In Sequim (Palo Alto Road)...

4.56 KW Grid-Tied...the array furnishes the year's electricity demand, zeroing the meter!
In Port Angeles (West 9th Street)...

2.66 KW Grid-Tied...the array is expected to provide enough energy to ZERO the meter!
In Quilcene (East Quilcene Road)...
The mahogany (marine-grade plywood) mounting frame underscores the aesthetics of solar energy. Even under the cloudy conditions present upon initial power-up, the residential system's first string of 1750 watts developed 504 Watts (or 30%) AC to the grid...one typically sees only about 20 - 25%.
The 3.5 KW system will be joined by a second 3.5 KW system when WA State PV is available!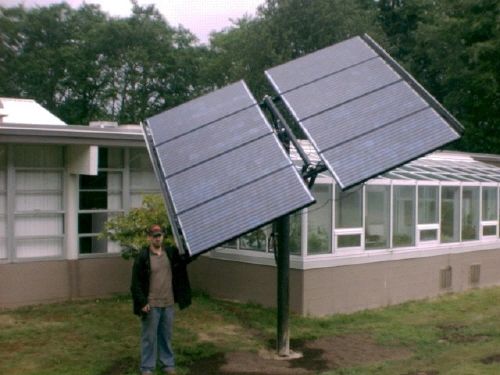 David Marbut at GHCC
You should hire this guy...

Marblemount, WA (Hydro System outflows to a stocked trout pond)

Marblemount, WA (APM Model 36 Turbine w/ Alternator, 48 V DC Output)
The system may be small, yet important, but the system owner's heart and soul are larger than life.
The system will be expanded in the future...the Solar Hot Water System is here now!

Port Townsend, WA (Corner of Clay & Adams Streets)

Sequim, WA (160 Kane Lane)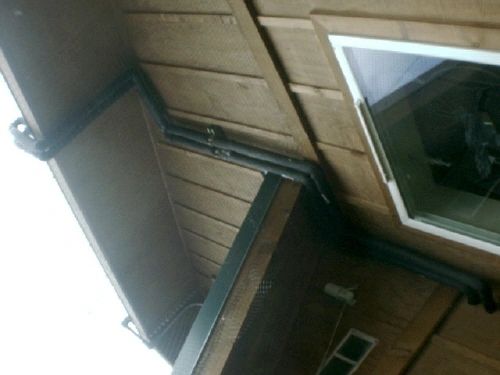 Solar Preheat Tank in the Pump House (w/ solar back up) The PV/Battery system also backs up loads in the garage

Power House (next to the Pump House) AC Disconnect Switch (for the utility) on Power House

Sequim, Washington (30 tube Solar Hot Water Preheat System & 2000 Watt Grid-Tied PV System w/ Battery)
(The PV system was upgraded to 3200 Watts in February '08; by the Spring Equinox, it produced >10 KWh per day!)
The Team w/ Olympic Energy Systems: Hanson Electric, Lang's 'Lectric, Greenspace, & H2O Plumbing
Olympic Energy Systems, Inc. provided consulting services to the first Sequim, Washington resident (and first Clallam County resident) to install a grid-intertied solar photovoltaic system. A roof-mounted Siemens (Shell) Earthsafe Solar Electric System was originally prescribed for the site, near Carrie Blake Park, with a new system architecture adopted later. Olympic Energy Systems brought in a local contractor, who was offering hardware rebates at the time. A combination pole-mount and shed roof-mount 3000 Watt PV system was prescribed, with installation by another contractor.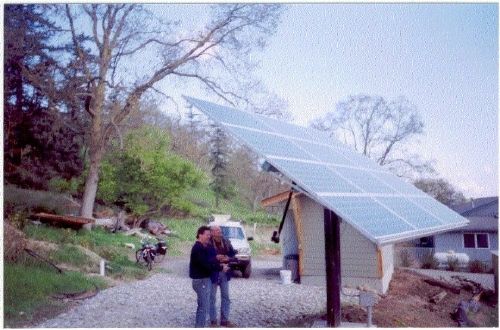 The owner soon found that his neighbor did not share
his liking for expanses of pretty blue solar panels
facing south. A year later, a proposed city ordinance was decided by the Sequim Planning Commission as unnecessary, for it is simply too difficult to regulate aesthetics. The commission decided upon a good idea
- to draft and distribute an educational brochure to allow the public to know the technical and regulatory issues involved in solar energy projects.

Stay tuned for updates to the Sequim Solar Story.
A small, on-site utility building may be a good option for those adopting solar or who have limited Solar PV mounting options. OES recommends Structures To Go, whose principle builder built the utility shed that sited Washington State's first grid-tie solar photovoltaic system in Clallam County.
16' x 24' kit (384 sq ft)
R-16 Walls and R-23 Roof and Floor
Marine grade Plywood SIP panels
3 double-pane Windows and 1 Door
Metal Roof (Green)
Mounted on (3) 4 x 6 treated skids
Finish cedar trim (over seams) included
Price: $18,000 to $19,000 Retail
Quiet, Sturdy, Energy Efficient
SIP panels made in Port Angeles, WA
May not require a building permit
Delivered as an easy to assemble kit
(assembled by owner or contractor)
Olympic Energy Systems, Inc. provides custom designed grid-intertied photovoltaic systems. The company previously offered the option of a pre-designed kit - the Shell Earthsafe 100 system, whereby clients achieve affordable, high quality, roof-mounted, grid-inter tied, photovoltaic systems. The company acquired Siemens (now Shell) Earthsafe certified training in 2001. Other system designs and solutions are available, including grid-tie, standalone or standby power, water pumping, off-grid, other photovoltaic, wind, or hydro electric systems, and solar thermal systems, including domestic hot water.
Company consultants understand technology, engineering, project management, and economics, and can design or assist in the design of systems appropriate for their clients.
"I love it!" a client answered when asked about her new electric heat pump, which replaced a propane furnace identified during an OES site evaluation as a candidate for improvement. In this case, a Solar PV system was not yet the solution to high utility and fuel bills, but having waited for new incentives, the client is now in a position to incorporate solar energy with a positive economic return! Here it is...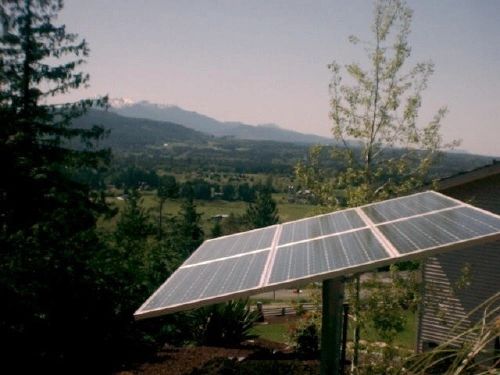 The Olympics
The Garage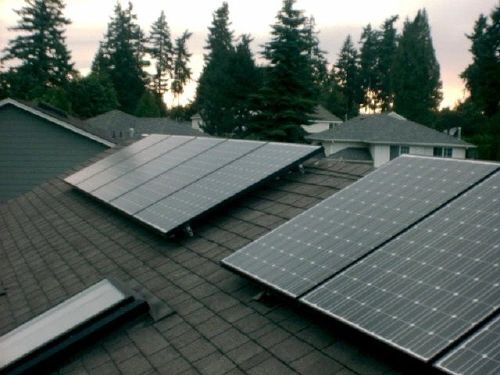 TTI Flat Jack
Thompson Technologies, Inc. Flat Jack system provides for superb waterproofness. The lag bolts to the roof rafters are covered by cleverly designed stainless steel flashing. OES further assures that leakage never occurs by filling in the drilled lag bolt holes with polyurethane prior to installation.
The company recently developed its Renewable Energy Cost Model (RCM), first available in 2004. [See Supporting Sustainable Living page]
Olympic Peninsula 10 KW Hydro Electric System Specifications
HEAD = 200 feet (Gross)
FLOW = 50 to 500+ GPM
POWER = 13 KW maximum (Winter 2004 average > 150 KWh per day)
Galvanized Steel Culverts, 30 inch diameter, as Forebay
Wood Sediment Gate at Headworks
Painted Iron Debris Gate at Headworks
Stainless Steel Intake Box at Forebay
Coanda Effect (Wedge-Wire Screen) Filter at Intake
Penstock Length = 970 feet (with 10 turns)
Buried Penstock, 2 feet nominal
Elevated Penstock (60 feet at Intake and 80 feet near Powerhouse)
Jute Covered Penstock at Elevated Portions (uv protection)
C-900 Water Main Pipe, 6 inch, PVC
Concrete Thrust Blocks and Anchors
Ductile Iron Angle Turns, MJ Joint
Shut Off Valves at top and bottom
Vent Tube, 4 inch, near top SOV
Concrete Slab, 10 x 12 feet, with Steel Superstructure Powerhouse
Front End Loader Bucket Tailrace Well (encased in concrete)
Galvanized Steel Culvert as Tailrace (reused discarded culvert)
Needle Nozzle Jet Control (for power optimization)
Canyon Industries 9513-1 Pelton Wheel Turbine
Thomson & Howe Controls and Switchgear
Utility Grid Inter-Tie (Net Metered)
Auto Shut Down and Auto Restart
Westinghouse Induction Generator, 480 Volt, 3 Phase (Voltage stepped down to 240)
North Cascades (Marblemount) 1.5 KW Hydro Electric System Specifications
HEAD = 140 feet (Gross)
FLOW = 150 GPM (by Permit), up to 200 GPM capability
POWER = 2.5 KW maximum (1.5 KW nominal)
Standalone Operation
System Output = 120 Volts AC (to electric heaters, offsetting fuel oil consumption)
Automatic operation
Wood Forebay at Headworks
Penstock Length = 650 feet, approximately
Buried Penstock, 2 feet nominal
Penstock, 4 inch, PVC
Wood Shed (Powerhouse)
Catch Basin Tailrace Well, 16 inch, PVC
Tailrace, 6 inch, PVC
APM Model 3600 Pelton-Wheel Turbine/Generator, 48 Volts DC Output
Trace SW 4048 Inverter
Trace C-40 Diversion Load Controller (air diversion load)
Dyno Batteries (L-16, n=8 in series)
First flow of the season for 10 KW system Battery Bank with Inverter
The Staircase Hydro system in the Olympic National Park near Lake Cushman gets a new Thomson & Howe load controller after almost 25 years of faithful service...
A Lake Sutherland hydro system undergoes renovation, beginning with restoring the penstock and later replacing the synchronous generator system with an induction generator system...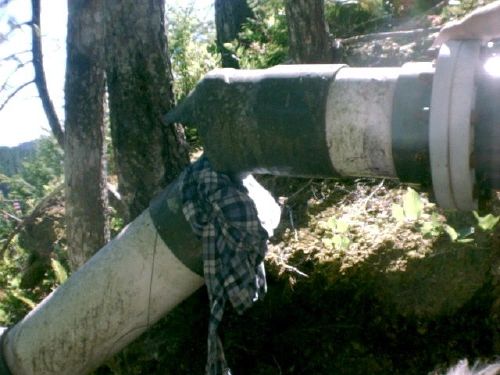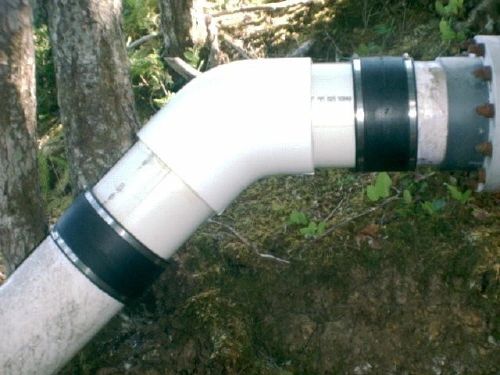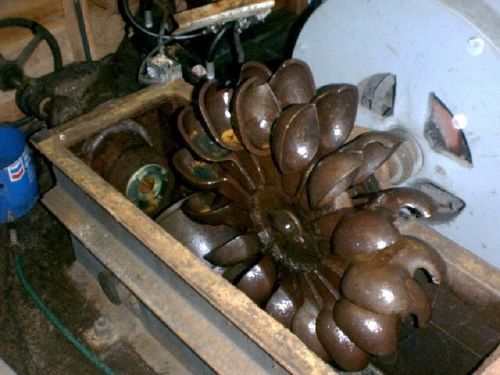 old
new
Lake Sutherland (Port Angeles) 40 KW Hydro Electric System Specifications
HEAD = 440 feet
FLOW = 800 gpm
POWER = 40 KW
On-Grid Operation
Automatic Shutdown (via Diverter Arm, in event of system or grid failure)
Pelton Wheel Turbine (Canyon Industries), single nozzle
100 HP Induction Generator (Motor)
10-inch PVC penstock, above ground
Dual 1500 gallon sediment tanks
Olympic Energy Systems, Inc., as part of its ongoing transportation R&D, is working on its Hy-Way Program. The properties of hydrogen, as now well understood, will enable its use as the primary energy storage medium of the future. When hydrogen is mixed with other gaseous transportation fuels, lower emissions of the pollutants NOx and CO are achieved. When the hydrogen is generated from renewable energy sources, while used as a transportation fuel, a sustainable energy regime is accomplished, moving us closer to energy independence.
ALTERNATIVES TO PETROLEUM FUEL
Ethanol
Source: Corn, and other biomass
Energy: 80K BTU per Gallon
Production: 4.3 Billion gallons per year in US (2005); 1 acre yields about 300 gallons ethanol
Emissions: CO2 Neutral
Properties: Higher Octane than gasoline (more efficient with higher compression Internal Combustion Engine)
Drawback: Low Overall Efficiency, especially 1st generation ethanol (starch only)
Methanol
Source: Natural Gas, Decaying Organic Matter (Landfills, Manure, etc.)
Energy: <80K BTU per Gallon
Production: Less than ethanol
Emissisons: CO2
Properties: Highly Corrosive
Drawback: Less cost effective than ethanol; largely non-renewable
Compressed Natural Gas
Source: Natural Gas
Energy: 1/3 that of gasoline by volume (necessitating larger tanks)
Production: Mostly used in city fleets; small fraction of total produced in US
Emissions: Lower CO, CO2, and NOx
Properties: High Octane of 130 (allows for higher efficiency in high compression ICE)
Drawback: Non-renewable
Biodiesel
Source: Vegetable Oils, Rendered Chicken Fat
Energy: Similar to Petro Diesel (125K BTU per gallon)
Production: 75M Gallons per year in US in 2005
Emissions: CO2 Neutral; Lower CO and NOx than Petro Diesel
Properties: Poor Low Temperature Performance
Drawback: Limited Production due to land requirements (though good long term outlook)
Electricity
Source: Coal, Natural Gas, Hydropower, Nuclear, Solar
Energy: 1 KWh = 3,413 BTU
Production: For cars, unknown (less than 2% total production as of 2006)
Emissions: Depends on source; no tailpipe emissions
Properties: Transportable (with transmission lines) and Storable
Drawback: Limited Storage (limited travel range)
Hydrogen [See heading "HYDROGEN FUEL INITIATIVE"]
Source: Natural Gas, Coal (can sequester the CO2); Electrolysis of water
Energy: 17 KWh = 100 cubic feet of Hydrogen (at STP conditions)
Production: 10 Million Tons per year in US (mostly from Natural Gas, for industry)
Emissions: Water (at "tailpipe'); overall emissions depend on source
Properties: Usable in Internal Combustion Engines (ICE); lighter than air
Drawback: Difficult to store
Wind monitoring is one way of assessing a site's wind power potential. Though the region experienced a mild winter of 2002-2003, results of monitoring at the Jefferson County Fairgrounds in Port Townsend showed 8.4 MPH average winds in December 2002. The North Olympic Peninsula is generally a very good Class 1 wind area, with average yearly wind speeds in many areas approaching 9.8 MPH, while other areas are certainly over 10 MPH.

2005-2006 monitoring in Port Townsend near the Strait of Juan De Fuca, after 348 days of monitoring, demonstrated 6 mph average winds for the year.


2006-2007 monitoring in Hansville, Washington (on Foul Weather Bluff on Hood Canal), installed in November 2006, should experience 12 mph or higher average winds. Wind was clocked at 25 mph on installation day!


2008 monitoring in Port Angeles, Seattle, and Anacortes (with tower systems developed by Olympic Energy Systems) are all located in commonly good wind areas - two near water and one near a ridge). In 2009, a monitor was placed above Atterberry Road in Sequim, WA (relocated from the Port Angeles site).

Seattle, WA (Elliott Bay) Anacortes, WA (Fidalgo Island)
APRS Data Logger - Solar powered APRS Data Logger - AC powered


Sequim, WA - NRG Systems - Battery powered


The graph below shows an obvious inverse relationship between wind on sunny days and wind on cloudy days, even in winter. Wind readings are taken at a heighth of 30 feet, nominal. As a service to its clients, Olympic Energy Systems provides wind monitoring with a free-standing guyed tower, or a tower secured at its base to a building.
A Geodesic Sphere 200 meters across, with a rendering of the earth's surface geography, would provide for the unaided eye viewing of one's typical home or living space. Such a viewing affords one a sense of his or her scale to the earth, indeed, finite, while literally seeing your "place" with a backdrop of the visible 1/2 of the earth. R. Buckminster Fuller, a designer and architect of livingry for all mankind, had envisioned plans for a world-around electricity grid, which would make it possible to be producing solar power and using it simultaneously on a world-wide scale, precluding the need for energy storage or non-renewable powered generation. Though distributed generation offers the possibility of zero net energy buildings, a world-around grid offers the possibility to fully forego fossil fuels.
You should know...
Energy system construction, fabrication, assembly, installation, plumbing, and wiring are implemented via a network of contracting professionals, the Olympic Energy Network. OES consultants serve as System Architects on a variety of energy projects, similar to the role of building architect with whom most of us are familiar. Click the logo below for more information.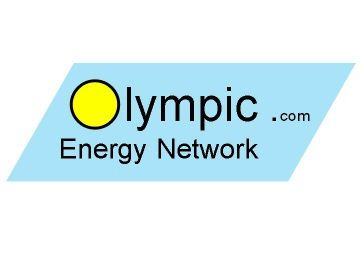 [Click for contractor information]