Structures To Go
, a Structural Insulated Panel (SIP) manufacturer in Port Angeles, WA, provides building kits and completed buildings.  Visit
www.structurestogo.com
.  The company has manufactured and delivered dozens of these strong, energy efficient buildings.  Read about their debut in the
Fall 2005 Olympic RE News
.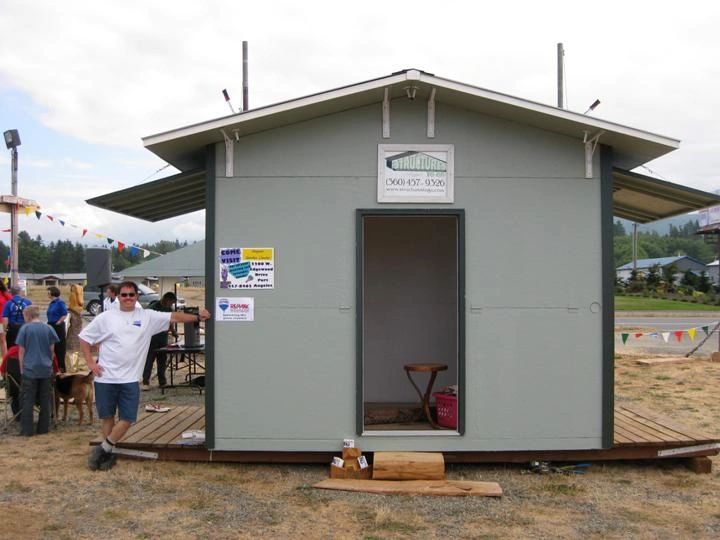 This "pop up" building can be erected in less than 30 minutes, deployable with a roll-deck truck to anywhere anytime.  A compartment below the roof stores emergency supplies, lifting poles, trim pieces, and other hardware used in placing this building in a temporary field application for emergency management.  [see left]








 
This 8 x 12 SIP building housed KONP Radio 1450 during the 2008 Lavender Festival in Sequim, WA.  This useful building is For Sale. [see right]



The Port Townsend office of Olympic Energy Systems has occupied this SIP building for over a year.  The annual electrical energy usage of this 8 x 12 building can be met with a 1200 Watt grid-tied solar electric system, including heat!  The energy efficiency of the 4 inch SIP walls, roof, and floor allows for heating with less than 8 KWh per day in the middle of winter. The life cycle cost of this building, including building construction cost and electricity from solar, is about $50 per month, over the expected 25 year service life of the solar electric system.  You can not find rent that cheap.  The building should remain another 25 years or more.  [see below]
 Some further thumbnail pictures of other STG buildings:



Storage Shed                Office                           Guest House                 Garage Shop



Woodworking Shop        Art Studio                     Multi-Purpose               Boat Storage

There are many other uses for these SIP buildings - Hot Tub House, Motorcycle Storage Shed, Pump House, Kiosk, Exhibitor Booth, or Garden Shed - most of which can benefit from the energy efficiency aspects, especially if the owner were to condition the space with heating.
This 8 x 8 is built with 2 inch SIP wall panels fabricated with mahogany plywood,  ON SALE at $2,195.
Zero Energy Buildings

Olympic Energy Systems has an interest in these buildings, as they allow for the cost-effective development of Zero Energy Buildings.  We are putting three basic principles to work:
Optimized Space (minimal square footage)
Energy Efficient Materials (i.e., use of SIPs)
Solar Energy Systems (appropriately sized)
A typical specification for these SIP buildings includes:

BUILDING SIZE (8 x 12, 16 x 16, 16 x 24, etc.),
SIP PANEL WIDTH (2, 4, 6, 8, 10, or 12 inch nominal),
ROOF TYPE (Three Tab, Metal, Other),
DOORS & WINDOWS (Quantity, Size, and Location)

Frequently Asked Questions...

Q: Are building permits required?
A: Structure size, use intent, and your county or city codes are determining factors.  Plumbing and electrical DO require permits.  Buildings permits may be exempted due to size and intended use.

Q: Are SIP materials and buildings green?
A: They are environmentally friendly to produce, very energy efficient when in service, and can be recycled.  This material is also free of formaldehyde off-gassing.

Q: What is the R-Value (insulation value)?
A: 6 inch nominal floor and roof panels are R-23 and 4 inch nominal wall panels are R-16, both avoiding the thermal block present in standard framing.

Q: Do the structures require a foundation?
A: Most of the building kits come with a floor structure that attaches to pressure treated skids.  The skids can be attached to pier pads and leveled with post brackets.  If a concrete floor is desired, the insulated floor will be omitted from the kit and walls can be attached to the concrete floor.

Q: What site preparation is needed?
A: A level surface on to which to locate the building.  With the use of pier blocks, an inclined surface can be used.

Q: Can the placement of windows and doors be changed?
A: Window, Door, and Wall panels are all interchangeable to any position around the building and more can be added at additional cost.

See more FAQs at www.structurestogo.com

Assembled SIP Buildings (that save $$$) are ON SALE now:

8 x 12 Storage Shed (2 in stock)
8 x 12 Garden Shed (2 in stock)
8 x 12 Pop Up [Emergency Management or Operations] (1 in stock)
8 x 12 Motorcycle Storage Shed - ramp, high bay ceiling (1 in stock)
8 x 12 Hybrid - SIP roof panels and stud walls; insulatable (4 in stock)

Structures To Go.com, Inc.

The company is a licensed manufacturing firm in the State of Washington.  There is a long history of entrepreneural spirit, as its founder is a former General Contractor with years of building experience with SIP panels.  New ideas and new applications of old ideas have meant positive innnovation for the company and a benefit to the general public.

The company offers buildings in three basic categories:
Zero Energy (Potential) Active Use SIP

Permitted Residential & Commercial (with engineering approvals)
Non-Permitted (exempted intended use)

Emergency Management

Deployable Emergency Operating Centers (EOC)
Emergency Housing

Storage

Standard SIP (walls, roof, and floor) - The Stuff Shed
Hybrid (SIP roof and dimensional lumber frame walls and floor)
These buildings have exemplary attributes, making them cost-effective and ecologically-sound:

     Energy Efficient
          Non-Toxic
               Locally-Made
                    Strong
                         Portable
                              Versatile

Call (360) 460-3162 or (360) 457-9326, or stop by the shop at 2255 Edgewood Drive Port Angeles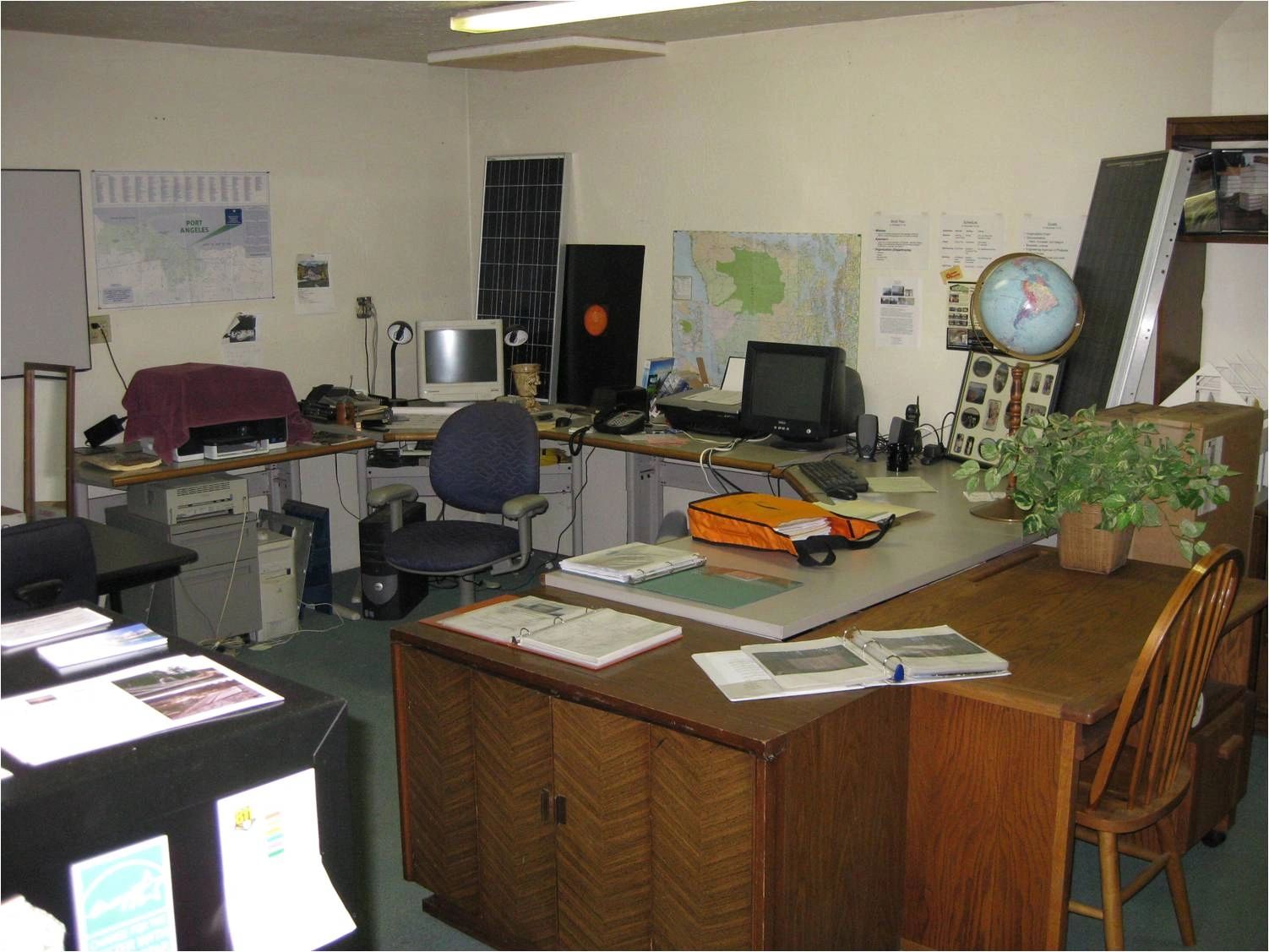 Our Office in Port Angeles.  Call and we can meet to talk about solar energy, SIP buildings, and more.